Dr Peter Brazel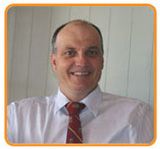 Dr Peter Brazel obtained his medical degree (M.B.B.S) at the University of Queensland in 1984. He completed his orthopaedic training in Brisbane and Ipswich, and became a Fellow of the Royal Australian College of Surgeons (Orthopaedic) in 1993. He then undertook an Orthopaedic fellowship at Crumblin Hospital, Dublin, Ireland.
Upon returning to Ipswich, Dr Brazel commenced private practice and was appointed as the Director of Orthopaedics at the Ipswich General Hospital. He continued in this position until 1999, whereby he took up an appointment as a visiting Senior Medical Officer at the Ipswich General Hospital.
Dr Brazel has been in private practice since 1993 and has developed a comprehensive orthopaedic private practice, which deals with knee, hip, upper limb, wrist, foot and ankle conditions.
Dr Brazel is regularly invited to sit on the Workers Compensation Tribunal. He has completed the ABIME (certification) and has extensive experience in the preparation of Medico Legal reports.
Dr Brazel was the Director of Orthopaedic Training at the Ipswich Training Hospital for ten years and was a member of the Queensland Orthopaedic Training Committee from 1999 – 2005. He is a Senior Clinical Lecturer with the University of Queensland. He was the President of the AOA(Qld) from 2004-2006 and served as a Federal Board Member for the Australian Orthopaedic Association from 2006-2008. He was appointed as an examiner of the Royal College of Surgeons (Orthopaedics) in 2013 and to the Board of Orthopaedic Outreach in 2013.
He is passionate about providing Orthopaedic Services to underdeveloped countries. Since 2009, he visits Fiji yearly to provide volunteer orthopaedic services for Fijian citizens and training for Fijian doctors and associated staff.
Dr Brazel has lived in Ipswich since 1992 and his two daughters were educated at local schools. He is an active supporter of the Ipswich community and past and present local committees include St Mary's Restoration Committee, Medical Advisory Committee Ipswich General Hospital, Medical Advisory Committee St Andrews Private Hospital and President Ipswich Club.